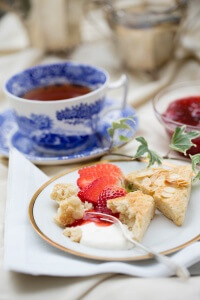 Photo: Jessica Lund
Mandelscones, 8st (English Recipe further down)

Underbara, söta scones som är perfekta till frukost eller eftermiddagsteet. Uteslut socker för en enklare scone. Jag bakar dessa i en sconespanna, men de går utmärkt att baka på vanlig plåt, runda eller fyrkantiga.
Grunddeg:
7 dl vetemjöl
1 dl mandelmjöl
1 tsk salt
1 ½ tsk bakpulver
¾ dl råsocker
125 g smör
1 ägg
1 ½ dl mjölk
1 dl filmjölk
Dekoration:
Ett uppvispat ägg
½ dl mandelflagor
Sätt ugnen på 240-250 grader.
Blanda de torra ingredienserna i en skål.
Nyp ihop de torra ingredienserna med smöret till en smulig deg.
Häll i ägg, mjölk och filmjölk och blanda till en deg.
Tryck ut degen i en sconesform eller platta ut den och skär ut fyrkanter eller stansa ut rundlar och lägg på en bakplåtspappersklädd plåt.
Pensla sconesen med uppvispat ägg och strö över mandel.
Grädda i mitten av ugnen i 8-10 minuter eller tills de fått lite färg.
Recipe in English:
420 g plain flour
60 g almond flour
1 teaspoon salt
1 ½ teaspoons baking powder
75g brown sugar
125g butter
1 egg
150 g milk
100g  buttermilk
Decoration:
A beaten egg
½ cup almond flakes
1. Preheat the oven to 240-250 degrees celcius (480 F)
2. Mix the dry ingredients in a bowl.
3. Pinch together the dry ingredients with the butter until a crumbly dough.
4. Pour in eggs, milk and buttermilk and mix to a dough.
5. Press the dough into a scone tin or flatten it and cut out squares( or punch out circles) and place on a baking sheet covered baking tin.
6. Brush the scones with the beaten egg and sprinkle with almonds.
Bake in the middle of the oven for 8-10 minutes or until lightly browned  and golden.