Petit Choux-blommor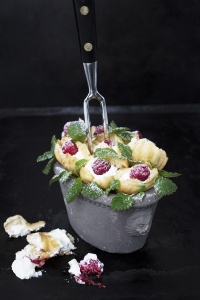 Photo: Stefan Wettainen
Recipe in English further down!

25 små eller 12 stora
Dessa små superfina petit-chouxer gjorde jag första gången till en sommarfest. De var så sanslöst uppskattade att jag fortsatt att göra dem i olika versioner. Receptet är klassiska petit-chouxer, det är bara tillvägagångssättet som är annorlunda.
Blommorna:
3 dl (300 g) vatten
100 g smör
2 dl (120 g) vetemjöl
3 st (180 g) ägg
Fyllning:
2 dl (200 g) vispgrädde
(Ev. 3 msk hallonsylt)
25 st hallon
Sätt ugnen på 200 grader.
Koka upp vatten och smör.
Rör i mjölet och koka upp under kraftig omrörning tills degen släpper botten på kastrullen och låt den rosta någon minut under omrörning.
Låt smeten svalna och tillsätt sedan ett ägg i taget och rör kraftigt emellan.
Klicka upp smeten i en spritspåse med stjärntyll. Spritsa "V:n" på en plåt med bakplåtspapper. Se till att det går ihop i botten på varje V.
Grädda i nedre delen av ugnen i ca 20 min. Öppna INTE ugnsluckan under tiden – då sjunker de ihop! Ta sedan ut petit chouxerna och låt svalna på galler.
Klipp de kalla petitchouxerna itu, men låt de sitta ihop längst ned på varje "V". De ska nu bilda en blomma med 4 blad.
Vispa upp grädden och blanda med hallonsylten om du vill, annars använd bara grädde. Klicka upp i en spritspåse med stjärntyll.
Spritsa i grädden i varje petit choux och tryck i ett hallon i varje. Pudra med florsocker.
English Recipe
25 small or 12 large

The flowers:
300 g of water
100 g butter
120g plain flour
3 pcs (180 g) eggs
Filling:
200 g heavy cream
(Ev. 3 tablespoons of raspberry jam)
25 pcs raspberries
1. Pre-heat the oven to 200 degrees celcius (390 F)
2. Boil water and butter.
3.Stir in the flour and bring to a boil while stirring vigorously until the dough comes away from the bottom of the pan. Let it roast for a minute, stirring.
4. Leave to cool and then add one egg at a time and stir vigorously between.
5. Click the mixture into a piping bag with star tulle. Pipe "V's" on a sheet of baking paper. Make sure it goes together in the bottom of each V.
6. Bake in the bottom of the oven for about 20 minutes. DO NOT open the oven door during the time – then they sink together! Then remove the petit chouxerna and let cool on a rack.
7. Cut the cold petitchoux from the top, leaving the "bottom of each heart" un-cut. They should now form a flower with four leaves.
8. Whip the cream and mix with raspberry jam if you wish, otherwise just use cream. Click into a piping bag with star tulle.
9. Pipe the cream into each petit choux and pop a raspberry in each flower. Dust with icing sugar.