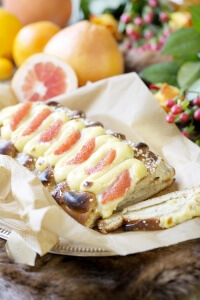 Photo: Jessica Lund
Grape- och pekannötslängd
En saftig längd med spännande smaker. De krispiga och söta nötterna gifter sig fint med syran från grapen i den lena krämen.
Grunddeg:
1pkt jäst för söta degar
225-250g smör
5 dl röd mjölk
1tsk salt
1 1/2 dl socker
1/2 msk kardemummakärnor, mortlade, ingen färdigmalen kardemumma!
1/2 tsk vaniljpulver eller vaniljfrön
13 dl (780 g) vetemjöl
Fyllning:
4 dl mjölk
1 dl vispgrädde
1 st vaniljstång
8 st äggulor
2 dl strösocker
40 g maizena
50 g smör
Rivet skal från en mogen grapefrukt och ca 3 msk av saften
½ dl grovhackade pekannötter
Dekoration:
8-10 filéer av grapefrukt
1. Smula jästen i en bunke. Smält hälften av smöret, blanda i mjölken och den mortlade kardemumman och värm degvätskan till 37 grader.
2. Rör ut jästen i litet av degvätskan och häll sedan i resten av vätskan. Tillsätt salt och socker samt hälften av mjölet och bearbeta degen, helst i hushållsassistent. Klicka sedan i resterande smör som då ska vara rumstempererat men inte smält.
3. Tillsätt resten av mjölet men spara lite till utbakningen.
4. Låt degen jäsa i 45 minuter eller till dubbel storlek.
5. Grapefyllning: Skär vaniljstången på tvären och skrapa ut fröna. Lägg stången och fröna i en kastrull ihop med mjölken och grädden. Koka upp under omrörning och ta sedan ur vaniljstången.
6. Vispa ihop äggulor, socker och majsstärkelsen till en jämn blandning och vänd sedan ned den i mjölken under vispning.
7. Koka upp och låt koka någon minut. Rör hela tiden tills såsen tjocknar.
8. Tag av från värmen och klicka i smöret, rör tills smöret smält. Låt svalna till dryga fingertemperatur.
9. Rör i saft och skal från grapefrukten. Ställ fyllningen åt sidan.
10. Utbakning: Sätt ugnen på 250 grader. Stjälp upp degen och knåda den väl.
11. Kavla ut degen till en rektangel och bred på hälften av fyllningen, ganska tjockt. Sprinkla sedan på nötterna. Rulla hela rektangeln till en rulle.
12. Klipp snitt i rullen, med någon dryg centimeters mellanrum, och vik varje snitt åt varsitt håll. Låt jäsa i cirka 20 minuter.
13. Vispa upp ägg med en liten nypa salt och pensla länden noga. Strö över pärlsocker och grädda i 35 min eller tills den fått fin färg.
14. Låt längden svalna på galler, under bakduk. Stäng inte av ugnen!
15. När längden svalnat ganska mycket, spritsa på mer fyllning mitt på och tryck försiktigt ner grapefruktfileer i fyllningen.
16. Sätt in längden i ugnen igen och sänk värmen till 200 grader. Låt stå i cirka 10 minuter eller tills krämen fått en lite fastare yta.
Recipe in English:
Dough:
50g fresh, live yeast (or 2 pkts dry yeast for sweet doughs)
225-250g butter (2 sticks)
500g whole milk
1teaspoon salt
1 1/2 dl sugar
1/2 tablespoon cardamom kernels (seeds, not pods), ground or morticed
1/2 teaspoon vanilla powder or vanilla seeds
780 g flour
Filling:
400g milk
100g whipping cream
1 vanilla bean
8 egg yolks
2 dl sugar
2 tablespoons corn starch
50 g (half a stick) butter
1 tablespoon grapefruit zest
3 tablespoons of grapefruit juice
½ dl coarsely chopped pecans
Decoration:
8-10 fillets of grapefruit
1. Crumble the yeast into a bowl. If using dry yeast – mix the yeast with a tablespoon finger temperature water. let it bubble for two minutes.
2. Melt half of the butter, mix in the milk and the cardamom and warm the dairy liquid to 37 C/100 F.
3. Stir the yeast into a small amount of the milk mix and then pour in the rest of the liquid. Add salt and sugar as well as half of the flour and process the dough, preferably in an artisan mixer. Then add the remaining butter, a tablespoon at a time. It should be room temperature, but not melted.
4. Add the rest of the flour, but save a little for later.
5. Allow the dough to rise for 45 minutes or until double size.
6. Grapefruit filling: Slice the vanilla bean open and scrape out the seeds. Put the bean and the seeds in a saucepan with the milk and cream. Bring to a boil while stirring and remove from the heat. Remove the vanilla bean.
7. Whisk egg yolks, sugar, and corn starch until smooth and then mix it into the milk while whisking with a ballon whisk.
8. Bring to a boil again and boil for a minute. Stir constantly until the sauce thickens.
9. Remove from heat and add the butter, stir until butter is melted. Set the cream aside to cool until room temperature.
10. Stir in juice and zest. Set aside to cool completely.
11. Baking: Preheat oven to 250 degrees. Pour dough on counter and knead it well.
11. Roll the dough into a rectangle and wide on half of the filling, quite thick. Then sprinkle the nuts. Roll the entire rectangle to a roll.
12. Cut the cut in the roll, at some centimeters intervals, and fold each cut to one side. Allow to ferment for about 20 minutes.
13. Whisk egg with a small pinch of salt and brush the lily carefully. Sprinkle with pearl sugar and bake for 35 minutes or until it has a nice color.
14. Let the length cool on the grille under the backing cloth. Do not turn off the oven!
15. When the length has cooled a bit, sprinkle more filling in the middle and gently push down grapefruit fillets into the filling.
16. Replace the oven length and lower the heat to 200 degrees. Leave for about 10 minutes or until the cream has a slightly firmer surface.