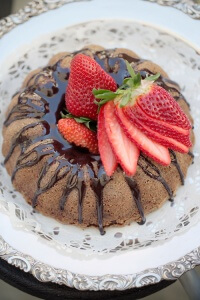 Chokladkaka med kardemummasås – English Recipe further down!
150 g smör
3 ägg
3 dl socker
¾ dl kallt vatten
3 dl vetemjöl
2 tsk bakpulver
½ tsk vaniljpulver
4 msk kakao
¾ dl mjölk

1.Sätt ugnen på 175 C och smörj en 1-1,5 L sockerkaksform.
2. Smält smöret och låt svalna
3. Vispa ägg och socker fluffigt och vänd sedan ned smöret och vatten.
4. blanda samman de torra ingredienserna och vänd ner dessa i smeten.
5. Tillsätt mjölken och rör försiktigt till en jämn smet.
6. Häll upp i formen och grädda i 30-40 min.
Kardemummasås:
2 msk smör
2 msk kakao
2 tsk mortlad kardemumma
2 msk sirap
3 msk socker
1 krm salt
1 dl grädde
Smält smöret och vispa i kakao och kardemumma.
2. Ha i sirap, socker, salt och grädde.
3. Koka ihop chokladsåsen och ringla den sedan över kakan före servering. Blir den för tjock så späd den lätt med lite vatten.
English Recipe:

150g butter
3 eggs
270 g sugar
75 g cold water
200 g flour
2 teaspoons baking powder
½ teaspoon vanilla powder
4 tablespoons cocoa
75 g milk
1. Preheat oven to 175 C /350 F and grease a sponge cake pan.
2. Melt the butter and set aside to cool.
3. Beat the eggs and sugar until fluffy and then fold in the butter and water.
4. Mix all the dry ingredients together and fold them into the batter.
5. Add the milk and stir gently until smooth .
6. Pour into pan and bake for 30-40 minutes.
Cardamom Glaze:

2 tablespoons butter
2 tablespoons cocoa
2 tsp cardamom, crushed
2 tablespoons syrup
3 tablespoons sugar
1 pinch of salt
100 g heavy cream
1.Melt the butter and whisk in the cocoa and cardamom.
2. Add the syrup, sugar, salt and cream.
3. Boil the chocolate sauce and drizzle it over the cake before serving. If it becomes too thick, add a few drops of water, until smooth.