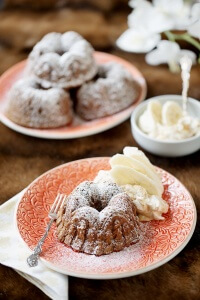 Photo: Jessica Lund
Recipe in English further down!
Banankaka med kolafluff, 4st små eller en stor
Söt kola gifter sig fint med banansmaken i dessa små mjuka kakor. Det går alldeles utmärkt att grädda smeten i en stor sockerkaksform också – men öka då gräddningstiden med det dubbla. Kolla med en sticka att kakan är klar!
Banankaka:
75 g smör
½ dl mjölk
2 st ägg
2 dl råsocker
2 st mogna bananer
1 tsk kanel
1 tsk malen ingefära
1 tsk vaniljpulver
3 dl mjöl
1 tsk bakpulver
½ tsk bikarbonat
Kolafluff:
3 dl vispgrädde
1 dl karamelliserad mjölk (Dulce de Leche)
1. Banankaka: Sätt ugnen på 175 grader och smörj och bröa fyra små sockerkaksformar, eller en stor.
2. Smält smöret och blanda med mjölken. Ställ åt sidan.
3. Vispa ägg och socker riktigt pösigt i en bunke.
4. Skala och mosa bananerna och vänd ner dem i äggvispet.
5. Blanda de torra ingredienserna och vänd ned dem i smeten. Rör sedan snabbt ner mjölkblandningen.
6. Häll smeten i formarna och grädda i nedre delen av ugnen i cirka 20-25 minuter (cirka 55 för en stor form)
7. Kolafluff: Vispa grädden fluffigt, men inte för hårt. Vänd försiktigt ned dulce de lechen i grädden, men blanda inte ut den helt, den ska vara lite "randig".
English Recipe:
Banana cake:
75g butter
½ dl milk
2 eggs
2 dl raw sugar
2 ripe bananas
1 teaspoon cinnamon
1 teaspoon ground ginger
1 teaspoon vanilla powder
3 dl flour
1 teaspoon baking soda
½ tsp baking powder
Dulce Fluff:
3 dl whipping cream
1 dl caramelized milk (Dulce de Leche)
1. Banana cake: Preheat the oven to 175 degrees c (350 F) and grease and bread four small tins or a big sponge tin.
2. Melt the butter and stir with the milk. Set away.
3. Beat the eggs and sugar until fluffy.
4. Peel and mash the bananas and fold into the eggs.
5. Mix the dry ingredients and fold into the batter. Stir in the milk.
6. Pour the batter into the molds and bake in the lower part of the oven for about 20-25 minutes (about 55 for a large tin)
7. Dulce Fluff: Whip the cream until fluffy, but not too hard. Carefully fold the dulce de Leche in the cream, don't mix it too well, you still want visible, thick streaks of dulce.