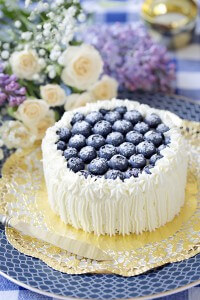 Photo: Jessica Lund
Recipe in English further down.
Den här härliga minitårtan är oerhört saftig och god. De klargula bottnarna är superfina mot de mörka bären, dessutom är den glutenfri!
Citronkaka:
175g smör
1 citron, helst ekologisk
2 ägg
2,5 dl strösocker
½ tsk vaniljpulver
1 dl kokosmjöl
½ dl majsmjöl
Fyllning och dekoration:
1,5 dl blåbärssylt
1 dl färska blåbär
4 dl vispgrädde
Bottnar:
Smält smöret och ställ det åt sidan för att svalna.
Sätt ugnen på 150 grader och smörj och bröa två springformar på 10 cm.
Tvätta citronen och riv skalet samt pressa ur saften.
Vispa ihop ägg och socker riktigt vitt och pösigt. Blanda i citron och vanilj.
Rör i det svalnade smöret samt mjölet och rör till en jämn smet.
Häll smeten i formarna och grädda i cirka 15-20 minuter i mitten av ugnen.
Fyllning och dekoration:
Tag loss bottnarna och dela dem i två delar. Bred på sylt mellan varje.
Vispa grädden fluffig och bred ett tunt lager på varje tårta.  Häll upp resten av grädden i en spritspåse. Spritsa sedan kanterna på tårtan.
Placera blåbären på tårtorna och spritsa toppar eller en kant runt varje tårta. Avsluta eventuellt med lite florsocker.
Recipe in English:
Lemon Cake:
175g butter
1 lemon, preferably organic
2 eggs
225 g granulated sugar
½ teaspoon vanilla powder
90 g coconut flour
45 g  cornflour
Filling and decoration:
150g of blueberry jam
1 cup fresh blueberries
400g heavy cream
1. Melt the butter and set it aside to cool.
2. Preheat the oven to 150 C/300 F and grease and crumb 2 small baking tins (10 cm/4 inches)
3. Wash the lemon and grate the zest and squeeze out the juice.
4. Whisk together the eggs and sugar really white and fluffy. Mix in lemon and vanilla.
5. Stir in the cooled butter and flour and stir until smooth.
6. Pour the batter into the tins and bake for about 15-20 minutes in the middle of the oven.
Filling and decoration:
1. Remove the cakes from the tins and divide them into two parts. Spread jam between each.
2. Whip the cream until fluffy and spread a thin layer on each cake. Pour the remaining cream into a piping bag.
3. Pipe the edges of the cake, I use a star shaped piping tulle.
4. Place the blueberries on on top of the cake and pipe peaks or a border around. Finish with a little icing sugar.