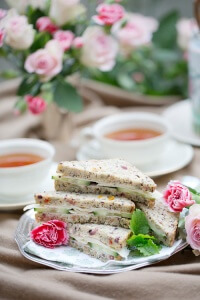 Photo: Jessica Lund

Sandwichbröd (English recipe further down)
Det kan kännas långsamt att behöva skålla frön innan bakning, men oj så gott det blir! Detta brödet lämpar sig utmärkt till tunna sandwichar eller varför inte som en god smörgås med leverpastej och gurka?
Deg steg 1:
1 dl polenta
½ dl linfrön
1 msk svarta psylliumfrön
2 msk chiafrön
1 dl solroskärnor
1 dl pumpakärnor
½ dl hackad mandel
5, 5 dl kokande vatten
Deg steg 2:
1 dl sirap
25 g jäst
1 ägg
1 ½ tsk salt
½  dl potatismjöl
½ dl majsmjöl
2 ½ dl bovetemjöl
2 msk fiberhusk
1 dl hackade torkade aprikoser
1 dl russin
Smör, olivolja eller rapsolja till formen
1 L brödform
Boveteflingor att strö på
Blanda alla torra ingredienser i steg 1 i en stor bunke. Häll det kokande vattnet över och blanda runt ordentligt. Låt detta vila minst i tre timmar eller över natten.
Blanda i ingredienserna i steg 2 separat och blanda sedan i det i fröblandningen. Plasta och låt jäsa i 2, 5 timmar.
Smörj en brödform ordentligt med fett och häll upp degen i den.
Olja händerna lätt och tryck/platta degen i formen så den blir jämn.
Strö lite boveteflingor längs brödets mitt och låt sedan brödet jäsa i formen i en timme eller till nästan dubbel storlek.
Värm ugnen till 175 grader.
Grädda i nedre delen av ugnen i cirka en timme. Låt brödet svalna helt innan du skär i det. Allra bäst mår brödet av att få ligga ett par timmar innan det äts.
English Recipe:
1 dl = 0.43 Cups ( 1 cup = 2.36 dl)
Dough Step 1:
1 dl polenta
½ dl flax seeds
1 tablespoon black psyllium seeds
2 tablespoons chia seeds
1 dl sunflower seeds
1 dl pumpkin seeds
½ dl chopped almonds
5,5 dl boiling water
Dough STEP 2:
1 dl light molasses
25 g fresh yeast (or 2 packets of dry yeast)
1 egg
1 ½ tsp salt
½ dl potato flour
½ dl cornmeal
2 ½ dl buckwheat flour
2 tablespoons psyllium husk
1 dl chopped dried apricots
1 dl raisins
Butter, olive oil or canola oil to grease the pan
1 standard bread pan
Buckwheat flakes to sprinkle on top
1.Mix all dry ingredients in Step 1 in a large bowl. Pour the boiling water over and mix thoroughly. Let it rest for at least three hours or overnight.
2.Mix the ingredients in step 2 separately and then mix in the step 1 mixture. Cover the bowl with plastic wrap and set to rise for about 2.5 hours.
3.Grease the bread pan thoroughly and pour the batter in.
4.Grease your hands and gently press the dough into shape.
5.Sprinkle light buckwheat cereal on top of the bread and then let it sit until doubled in size, about one hour.
6.Preheat oven to 175 C/350 F
7.Bake in the lower part of the oven, for about one hour. Let the bread cool completely before cutting it. You will get a better result if you let the bread stand, covered, until the next day.