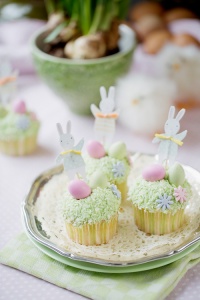 foto: Jessica Lund
(Enlish Recipe further down)
Påskens härligaste cupcakes som för tankarna till blommor och gröna gräsmattor. Kokosen går att färga långt innan och förvara i tätslutande burk.
4 dl vetemjöl
2 tsk bakpulver
1/2 tsk vaniljpulver
150 gram smör, rumsvarmt
2 dl strösocker
2 ägg
1 1/4 dl mjölk
½ dl bär eller hackade jordgubbar
Frosting:
175 g smör, rumsvarmt
5 dl (300 g) florsocker, siktat
50 g vit choklad, smält och avsvalnad
Några droppar grön hushållsfärd
Dekoration:
Grönt kokosströssel
Sockerblommor, eller riktiga från trädgården
Sätt ugnen på 175 grader.
Blanda de torra ingredienserna i en bunke.
Vispa smör och socker riktigt luftigt och tillsätt ett ägg i taget.
Rör i mjölblandningen och sedan mjölken och vänd sist i färg och bär.
Fördela smeten i 12 cupcakesformar, gärna ställda i en minimuffinsplåt.
Grädda i mitten av ugnen i cirka 15 minuter eller tills de ser fasta ut. Låt dem svalna.
Frosting:
1.Vispa smöret fluffigt och ha i de övriga ingredienserna, utom chokladen, och vispa till en jämn smet.
2. Rör i chokladen i frostingen och droppa i färgen.
3. Bred på frosting på varje cupcake och rulla den sedan i kokosströssel. Dekorera med blommor/Kaniner eller små chokladägg.
Recipe in English:
240 g flour
2 teaspoon baking powder
1/2 teaspoon vanilla
150g butter, softened
180g sugar
2 eggs
125 g milk
½ cup berries of your choice

Frosting:
175 g Butter, softened
300 g Icing sugar, sifted
50 g White chocolate, melted and cooled
A few drops of green food color

Decoration:
Green coconut flakes (just mix coconut flakes with a few drops of green food color and toss it around in a plastic bag)
Rabbits, eggs or other easter decorations

1.Preheat oven to 175 C/ 350 F
2.Mix the dry ingredients in a bowl
3.Beat butter and sugar until fluffy, then add one egg at a time.
4.Stir in flour mixture, then the milk, and lastly fold in the color and the berries.
5.Distribute the batter evenly in 12 cupcake paper cups, preferably placed in a muffin tin.
6.Bake in the middle of oven for about 15 minutes or until lightly golden. Let cool.
Frosting:
1.Whisk butter until fluffy and add the remaining ingredients, except the chocolate. Whisk until smooth.
2. Stir in the chocolate in the frosting and add color.
3. Spread the frosting on each cupcake, and then roll it in coconut sprinkles. Decorating with flowers / Rabbits or small chocolate eggs.