Cakepops, 15 st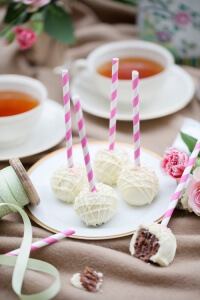 Foto: Jessica Lund
Recipe in English further down.
Ett roligt inslag på festen eller tepartyt för både vuxna och barn! Se till att havregrynen är helt glutenfria och att chokladen är det. Fazer har helt glutenfri vit choklad bland annat!
Grundsmet:
50 g kallpressad kokosolja (kan ersättas med smör)
50 g smör (kan ersättas med mera kokosolja)
1 dl kokossocker (kan ersättas med strösocker)
1 tsk vaniljpulver eller vaniljextrakt
3 msk riktigt bra kakao
2 dl havregryn
1 dl kokosflingor
1 msk kall espresso
1 msk Rom (kan ersättas med en extra msk espresso)
Dekoration:
Klubbpinnar eller sugrör
2 m smalt sidenband
300g vit choklad (Vegan om man vill ha det!)
strössel eller kokosflingor
Kör kokosolja och smör med elvisp vitt och fluffigt och ha i sockret. Vispa lite till.
2. Kör havregrynen lätt i en mixer så de finfördelas något. Vänd i kokos, vanilj, kakao och kaffe i smörsmeten och blanda väl.
Rulla nu smeten i bollar (är den väl lös så låt den stå kallt en stund). Ställ bollarna kallt.
Hacka den vita chokladen och smält hälften över vattenbad. Ta sedan chokladen från värmen och smält den andra hälften i den nu varma chokladen. Du kan även hoppa över att doppa dem i choklad och rulla dem i kokos istället – men chokladen gör att de känns lite lyxigare och godare!
Sätt en pinne i varje boll och doppa sedan varje boll i chokladen med hjälp av en sked och ställ på galler. Gör bara ca 5 st åt gången.
När de stelnat lätt tar du lite vit choklad från skålen i en sprits eller med hjälp av en gaffel och sedan ringlar eller spritsar på varje cakepop. Strö över lite strössel eller kokosflingor på den spritsade chokladen innan den stelnar.
7. Bind en liten sidenrosett runt varje pinne om du vill.
Förvara dina cakepops svalt.
TIPS! Uteslut kakaon och espresson och tillsätt istället frön från en vaniljstång, en skvätt mjölk samt ersätt den vita chokladen med mörk choklad istället – himmelskt gott!
Recipe in English:
Batter:
50 g cold-pressed coconut oil (can be replaced with butter)
50 g butter (1/2 stick) (can be replaced with more coconut oil)
1 dl coconut sugar (can be replaced with cane sugar)
1/2 teaspoon vanilla powder or vanilla extract
3 tablespoons high quality cocoa
2 dl rolled oats
1 dl coconut flakes
1 tablespoon cold espresso (or coffee)
1 tablespoon Rum (can be replaced with an extra shot of espresso)
Decoration:
Paper sticks or straws
2 M (2 yd) thin silk ribbons
300g white chocolate (Vegan if you want it!)
sprinkles or coconut flakes
1. Mix coconut oil and butter until white and fluffy. Add the sugar and mix until smooth.
2. Mix in the oats and add coconut flakes, vanilla, cocoa, and coffee into the butter and mix well.
3. Roll the batter into balls (if batter is loose, let it cool in the refrigerator for a while).
4. Set the balls to cool again in the refrigerator.
5. Chop the white chocolate and melt half of it. Then take the chocolate from the heat and melt the other half into the already melted chocolate. (This will prevent chocolate from melting once hardened.)
6. Put a stick in each ball to form a hole. Drip a little chocolate in the hole to secure the stick. Let the stick set. Then dip each ball into the melted chocolate. Use a set of spoons if you like. Put the cake pops on a tightly woven cooling rack to drip.
7. Once the chocolate has set, take a little white chocolate from the bowl and put it in piping bag. Sprits thin lines over each cake pop. Sprinkle some sprinkles or coconut flakes on the sprinkled chocolate before it solidifies.
8. Tie a small ribbon around each straw if you like.
Store your cake pops in a dry and cool place.
TIP! Replace cocoa and espresso with vanilla and a splash of cream instead. Dip in dark chocolate instead of white.  – heavenly!