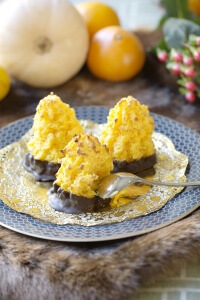 Photo: Jessica Lund

Recipe in English – further down.
Citron- och kokostoppar, 4st stora eller 12 stycken små
Dessa kladdiga kokostoppar är magiskt goda. De ska kännas undergräddade och kletiga i mitten.
Smet:
50 g smör
200 g kokosflingor
2 ägg
1 dl socker (eller en tesked stevia)
½ tsk äkta vaniljpulver
1 msk vispgrädde
rivet skal från en citron
några droppar gul karamellfärg
(ev 1 extra msk mjölk eller grädde)
Dekoration:
75 mörk choklad
Sätt ugnen på 175 grader.
Smält smöret och häll i kokosflingorna.
Blanda samman med ägg, socker och vanilj. Låt svälla i 20 minuter.
Tillsätt grädden och citronen samt karamellfärg. Hit går smeten att förbereda och förvara i kylskåp upp till ett dygn om man vill.
Fyll upp smeten i spritspåse med en stor stjärntyll. Känns smeten väldigt fast så rör ut den med lite mjölk eller grädde, den får dock absolut inte bli rinnig utan ska vara relativt fast!
Spritsa upp fyra riktigt stora toppar (eller 12 mindre) på ett bakplåtspapper.
Grädda i cirka 12 minuter, tills de precis fått lite färg på kanterna. Hemligheten är att undergrädda dessa läckerheter!
Låt topparna svalna helt innan du lyfter dem från plåten.
Smält chokladen i ett vattenbad och doppa varje kokostopp cirka 1 cm längst ned. Låt rinna av och stelna på galler.
 4 large or 12 small pieces

50 g butter
200 g coconut flakes
2 eggs
90g sugar (Or a teaspoon of stevia drops)
½ teaspoon pure vanilla powder
1 tablespoon heavy cream
zest from one lemon
a few drops of yellow food coloring
(Possibly one extra tablespoon milk or cream)

Decoration:
75 dark chocolate
1. Preheat the oven to 175C / 345 F
2. Melt the butter and stir in the coconut flakes.
3. Mix together the eggs, sugar and vanilla and add to the butter/coconut mix. Let rest for 20 minutes.
4. Add the cream, lemon zest and color.
5. Scoop the mixture in a piping bag with a large star tulle. If the batter is too dry, add a little milk or cream.
6. Pipe four really big peaks (12 if making smaller ones) on a baking sheet.
7. Bake for about 12 minutes, until they just got a little color on the edges. The secret is to not over bake these delights!
8. Let the tops cool completely before lifting them from the plate.
9. Melt the chocolate and dip the bottom of each coconut top in it. Drain and put on a rack to set.